PDF Automation Server Features
PDF Automation Server – Batch Jobs Module
Automate the receiving, processing and routing of documents with the PDF Automation Server's Batch Jobs Module. PAS can receive documents in various formats from multiple sources concurrently, including email, ftp servers and hot folders. Processes can then be defined independently for each document source to perform automated processing and handling of documents.
Powerful, Easy. Our goal is to simplify PDF for you. PDF Automation Server (PAS) is a server product which is powerful, easy to set up and affordable. It doesn't require any programming and can be up and running in a few minutes only.
PDF Processing. PAS provides a large number of PDF processing functions to manipulate PDF documents.
Reliability. PAS has been produced and tested with the utmost care so that uptime is maximized and your documents are always processed reliably. Intelligent error handling and recovery is done at multiple levels in the software so that the server can recover from transient error conditions. Additionally, different processes are independent, so errors in one process will not affect other processes.
Multiple Sources. PAS can receive documents from multiple sources concurrently. Documents from different sources can be handled in the same manner or unique processes can be defined for individual sources.
Multiple Destinations. After processing documents, PAS can deliver the documents to multiple destinations. Each process in the server can send the resulting document to multiple destinations and different processes can send output to unique destinations.
Event Logging. PAS keeps a complete log of events in the server, including informational, warning and error events. With the event log, users can track document processing and pinpoint causes of problems.
Notification. PAS can send notification emails based on a number of criteria, including error conditions as well as successful processing of documents.
Platform Independence. PAS is platform independent and can run on Windows, Linux, Mac OSX and several Unix flavors.
Qoppa's Technical Support . Contact Qoppa's support with any questions. We're here to help, always and we provide support at an expert level.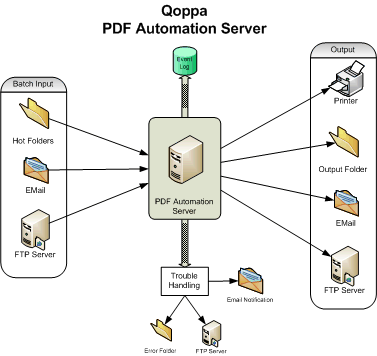 Read about all the PDF Processing Functions available in PDF Automation Server.
Refer to our user manual to learn more about PDF Automation Server.
Looking for an end-user desktop tool? Have a look at our PDF editor PDF Studio.