PDF Software for Banks and Financial Institutions
PDF Software for Banks and Financial Institutions
Qoppa Software's high quality PDF Software and PDF Applications can assist your financial team with all their document needs.
Quick Highlights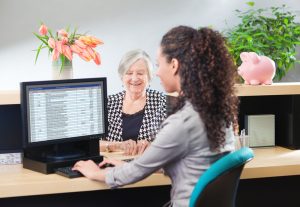 Trust Qoppa's Proven PDF Technology to reliably automate your enterprise document processes on the back-end and improve employees daily workflow on the front end.
Affordable simple license- Avoid overpriced monthly subscriptions or even per document fees by purchasing one time fee license or enrolling into a flat yearly subscription with no hidden fees for our software products.
Run on Premise – Our software runs on your own local servers to keep your confidential documents safe and save on storage and bandwidth.
Receive expert support from our highly specialized team that may be contacted via phone, email, or even within our applications and will respond to your inquiries within hours.
Features
Design your own custom Automated Workflows through simple drag and drop to streamline your business document processes and eliminate tedious and repetitive tasks.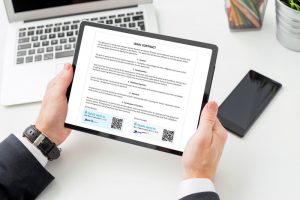 Secure your contracts and agreements with Digital Signatures in order to prevent further modifications and save paper and time. Set passwords and permissions to restrict access to your confidential documents.
Manipulate documents with our advanced Document Editing capabilities that give you the options to assemble, merge and split PDF documents while preserving the integrity and the features of the original documents. 
Create and Merge PDF Forms to improve collection, merging and sharing of data across departments and systems.
Protect sensitive information with our Permanent Redaction feature that can be used to redact confidential information from bank statements and other financial documents.
Transform scanned invoices with OCR (Optical Character Recognition) into machine readable text that can be fed into automated processes.
Convert documents from clients, vendors, and financial institutions into a homogeneous PDF format, that is widely recognized as the digital replacement for paper.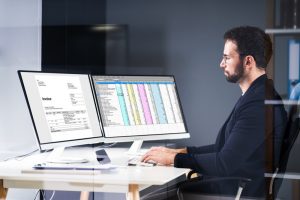 Review and Annotate documents to improve communication and collaboration among your employees and across departments.
Print documents such as banks statements or invoices fast and reliably using Qoppa's Advanced Printing options.
Compress documents to reduce file size and save on storage space. Then Convert your document to PDF/A to safely archive them.
Experience the Multiplatform and environment support of our our PDF applications and developer tools, giving you the freedom to deploy on Microsoft Windows, Linux, or Apple macOS.
Qoppa's PDF Software Products
PDF Automation Server our powerful server side application to automate document processes on the back-end
PDF Studio our fully featured end-user application to improve daily document tasks
Qoppa's comprehensive suite of PDF SDK products to integrate within your own server applications