Software to Extract Text Content from PDF Documents
Tools to extract text from PDF documents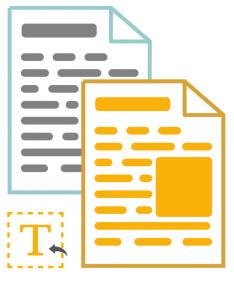 Qoppa Software offers many solutions to extract text content from PDF documents, which can be useful for indexing documents when storing them in a database or archiving them.
Choose among the tools listed below which is the best fitted for your needs.
Complete PDF Editor similar to Adobe Acrobat that among many other functions can extract text from a PDF documents or perform batch text extraction on multiple PDF documents at once. PDF Studio can also perform OCR on PDF documents, adding searchable text content to scanned images.
OS: Windows, Mac, Linux, Unix
Java library to extract text from PDF documents. The flexible API can return not only the text but also information about the text such as location, color, font properties, etc…
OS: Windows, Mac, Linux, Unix
PDF Automation Server | Free Trial
Advanced automation tool to run in the backend that can watch for PDF documents as they arrive and extract text from the documents. The output files can be saved to a local folder, emailed or ftped.
OS: Linux, Mac, Windows