PDF Document Nodes
PDF Document nodes are standard processing nodes that perform various modifications / conversions to PDF documents.
Processing nodes are designated with a Grey Rectangle shape: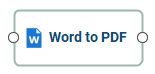 PDF Document Nodes
Add Content - Add text or image content to a PDF document
Document Info - Add or edit the document information of a PDF file
Extract Attachments - Extract attachments from PDF documents
Extract Barcode Data - Extracts Barcode data from PDF documents
Extract Images -  Extract all images stored within PDF document
Extract Table Data - Extract table data from PDF to CSV or comma delimited formats
Fix Scan - Fix alignment and rotation issues on scanned documents
Imposition - Create industry standard imposition layouts including: including: 2, 4, & 8 up booklets; cut stacks; sequential, step and repeat
OCR -  Add text to scanned documents or images
Optimize - Reduce the file size of PDF documents
Print PDF - Send PDF document to the printer
PDF Text to Variable - create variables from text content stored within the PDF
XML to XMP Metadata - Imports XML data into PDF document XMP metadata
XMP Metdata to XML - Exports PDF document XMP metadata to XML
Qoppa Software's PDF Automation Server for Windows, Linux, Unix, and macOS
Automate PDF Document Workflows through RESTful Web Services & Folder Watching
Copyright © 2002-Present Qoppa Software. All rights reserved.