Connecting to PAS Service
PAS Manager is the graphical interface that connects to the server used to create Workflows, Jobs & update Server Settings. The PAS Manager can be started from the desktop icon or from the PAS Manager launcher in the installation folder. After starting the PAS Manager, the Connection Dialog is displayed to set the server you wish to connect to.
Enter the IP address or HostName and Port of the server you wish to connect to. If you installed both the server and manager this will default to "localhost". If you just installed the manager you will need to use the IP address or HostName and Port (default 8093) of the remote server.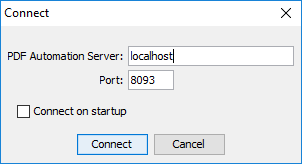 Note: If you are connecting to the localhost and the PDF Automation Server is not running, you will be prompted to start the server. By default, the server uses port 8093. If the server has been modified to use a different port, enter the new port number.
Once connected to the PDF Automation Server, the PAS Manager Console is displayed showing the primary Dashboard panel.

---
Qoppa Software's PDF Automation Server for Windows, Linux, Unix, and macOS
Automate PDF Document Workflows through RESTful Web Services & Folder Watching
Copyright © 2002-Present Qoppa Software. All rights reserved.