PAS Workflow Module
Automate your business and document workflows with an easy to use graphical interface. Design and build complex automation flowcharts that easily integrates into 3rd party services.
Starting PAS Manager
PAS Manager is the graphical interface that connects to the server used to create jobs and update server settings. The PAS Manager can be started from the desktop icon or from the PAS Manager launcher in the installation folder. After starting the PAS Manager, the Connection Dialog is displayed to set the server you wish to connect to.
Enter the IP address or HostName and Port of the server you wish to connect to. If you installed both the server and manager this will default to "localhost". If you just installed the manager you will need to use the IP address or HostName and Port (default 8093) of the remote server.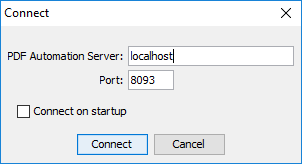 Note: If you are connecting to the localhost and the PDF Automation Server is not running, you will be prompted to start the server. By default, the server uses port 8093. If the server has been modified to use a different port, enter the new port number.
Once connected to the PDF Automation Server, the Project Console is displayed with the jobs in the top portion and the log displayed in the lower portion.
The Workflow List
The Workflows List panel displays a list of workflows on the server as well as their current status. It also has buttons to manage and create new workflows (new, edit, start/stop, delete).
Workflow Options
New: Starts the Workflow Editor tool
Edit: Opens the Workflow Editor tool
Start/Stop: Starts or Stops the selected workflow on the server
Delete: Deletes the selected workflow from the server
The Recent Events Log
The Recent Events Log panel displays the last 100 workflow events logged in the server.
Note: As you are setting up your first projects, you can add to PASprop.xml settings file an additional entry Verbose = "true" so the log will be more verbose.
Event Log Options
Clear: Clears only the log items in the Recent Events list
Note: Clearing the recent events list does not delete the actual log entries from the database. You can delete logs from the Full Events Log window.
Full Log: Displays the Full Events Log window
Qoppa Software's PDF Automation Server for Windows, Linux, Unix, and macOS
Automate PDF Document Workflows through RESTful Web Services & Folder Watching
Copyright © 2002-Present Qoppa Software. All rights reserved.