Setting a Status or Check mark
Setting the status or marking an annotation can be useful for keeping track of which annotations you have already reviewed. To set a status or checkmark, right click (Mac: Ctrl-Click) on the annotation and select Mark with Checkmark or select a status from the Review submenu.
The active annotation's checkmark can also be toggled in the Comments Pane with the Spacebar.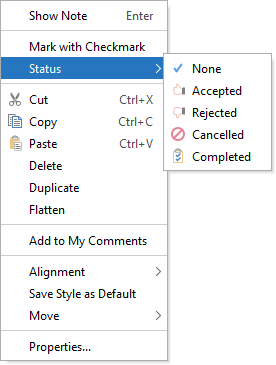 The review history is saved each time the annotation status is modified and can be viewed in the Status History tab in the Annotation Properties Dialog.
---
Copyright © 2002-Present Qoppa Software. All rights reserved.