Annotation Properties
To access the annotation's properties go to the Properties Tab on the toolbar or to open the properties dialog right click (Mac: Ctrl + Click) on the annotation and choose Properties in the mouse menu or click on the edit button

on the Mini Toolbar.

Each type of annotation has its own list of options. For a more detailed description of each of the annotation's available properties go to that specific annotation's page.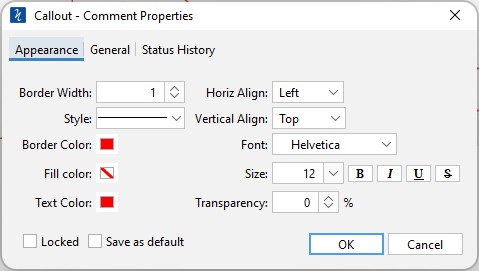 Property Dialog Tabs
Appearance
Where to edit all of the appearance settings of the annotation as well as the comment and default settings
General
Displays the author and subject information of the comment
Status History
This tab will display and changes to the review status of the annotation including Author, Status, and Timestamp. For more details see Setting Status or Check Marks on Annotations
tml>
---
Copyright © 2002-Present Qoppa Software. All rights reserved.