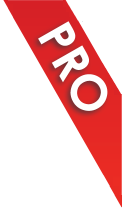 Managing Timestamp Servers
PDF Studio allows you to manage the timestamp servers that can be used when digitally signing PDFs.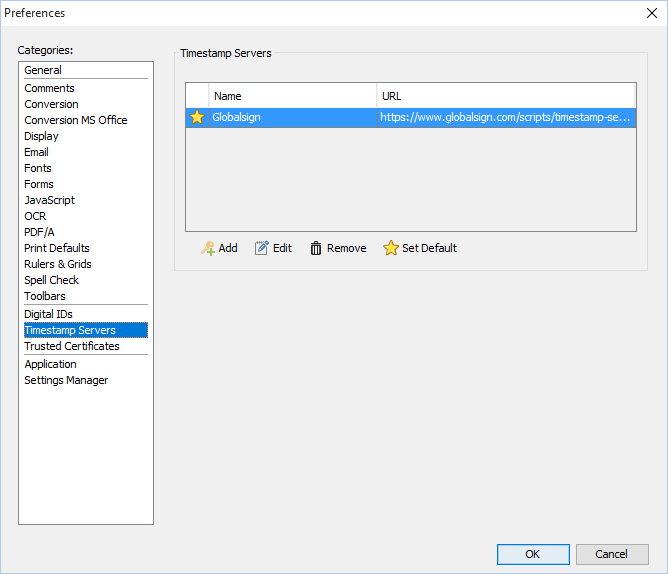 Accessing the Timestamp Server Settings
To access the timestamp server preferences do one of the following
Go to

Secure Tab > Timestamp Servers on the toolbar
Go to 

File > Preferences

then select 

Digital IDs

 from the panel on the left
Timestamp Server Options
Timestamp Servers
Add
Click on the Add

button to add a new timestamp server. Use the dialog to set the settings for the server
Server Information

Display Name: the name displayed in the Digital Signature Options when applying a stamp
URL: the URL of the timestamp server

Make this my default TSA: when checked, this timestamp server will be used as the default when signing

User Information

TSA requires authentication: check this box if the server requires authentication
User name: the user name for authentication on the timestamp server
Password:  the password for authentication on the timestamp server
Edit
Click on the Edit

button to change the details of the selected timestamp server
Remove
Click on the Delete

button to delete the selected timestamp server
Note: This cannot be undone. You will need to re-add the timestamp server again if needed
Set Default
Click on the Set Default

button to set the selected server as the default.  
Note: A default must be selected for a timestamp server to be used with signing or certifying.
---
Affordable, Powerful PDF Software / PDF Editor for Windows, macOS, Linux
Copyright © 2002-Present Qoppa Software. All rights reserved.