Properties Pane
The Properties Pane displays the settings or options available for the currently selected node on the graph.
Note: When no node is selected on the graph it will display the Workflow Properties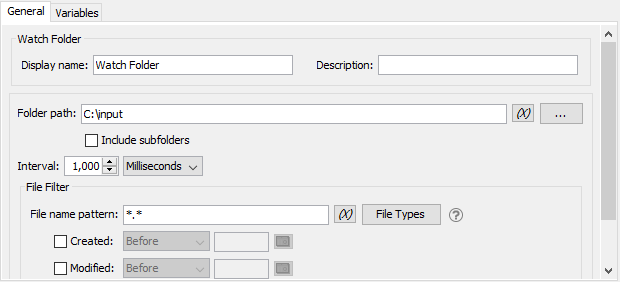 Options
The pane options will be set based on the current selected Node on the graph and organized into the following tabs.
General
Available in every node and contains all the primary settings for the node. All required fields will be found in this tab and will be marked with validation marker if the field is required.
Advanced
Contains additional options for the node if needed (Not available in all nodes)
Variables
The variables tab functions the same as the Create Variable Node only it allows you to create variables at any point during the flow if needed. Created variables are immediately available to be used in the currently selected node if needed.
Validation
Node properties that require a value to be entered will be marked with a

to designate it as a required field. Hover over the icon to see a tooltip showing what the error is.

Note: All required fields must be completed in order to run the flow.
---
Qoppa Software's PDF Automation Server for Windows, Linux, Unix, and macOS
Automate PDF Document Workflows through RESTful Web Services & Folder Watching
Copyright © 2002-Present Qoppa Software. All rights reserved.