PDF Comments Nodes
PDF Comments nodes are standard processing nodes that perform various modifications / conversions to annotations / comments in PDF documents.
Processing nodes are designated with a Grey Rectangle shape: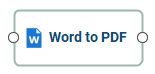 PDF Comments Nodes
Delete Comments - Deletes comments / annotations from a PDF
Export Comments - Exports comments / annotations from a PDF
Flatten Comments - Flattens comments / annotations into the page content
Import Comments - Imports comments / annotations into a specified PDF document
Search & Markup - Adds text markups to all the search results found within a PDF document
---
Qoppa Software's PDF Automation Server for Windows, Linux, Unix, and macOS
Automate PDF Document Workflows through RESTful Web Services & Folder Watching
Copyright © 2002-Present Qoppa Software. All rights reserved.