Input / Source Nodes
Input nodes are the starting point for any workflow. These nodes watch or make requests for files to be processed through the workflow based on a specified criteria. All flows must contain at least one input / source node to run.
Input nodes are designated with a Blue Oval shape: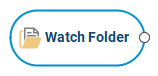 Input Nodes
HTTP Request - Make HTTP requests and process the responses
Watch Email - Watch emails for file attachments
Watch Folder - Watch folders for files based on specified filters
Watch FTP Folder - Watch remote FTP folders for files based on specified filters
---
Qoppa Software's PDF Automation Server for Windows, Linux, Unix, and macOS
Automate PDF Document Workflows through RESTful Web Services & Folder Watching
Copyright © 2002-Present Qoppa Software. All rights reserved.