Editing a Job
In PAS Manager select the job you wish to edit and then click on the "Edit" button to view and edit information about the job. When the button is pressed, a new window will open containing all of the job information and settings.
Job Information Panel
The Job Information Panel is located on the left side of the edit job window. This panel will display a short summary of the job settings. If any of the settings are incorrect a message will be displayed in RED text next to the setting. Click on the section in the panel to go directly to the settings tab to adjust those specific settings.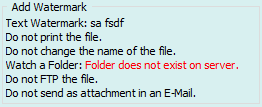 Job Settings Tabs
The Job Settings Tabs are grouped into sections that contain each of the settings for the job. To change any of these settings click on the appropriate tab name in the Job editor dialog.
---
Qoppa Software's PDF Automation Server for Windows, Linux, Unix, and macOS
Automate PDF Document Workflows through RESTful Web Services & Folder Watching
Copyright © 2002-Present Qoppa Software. All rights reserved.