The Sound annotation tool allows you to add a sound annotation to a page either from an existing file (.au, .aiff, or .wav sound file) or a microphone recording.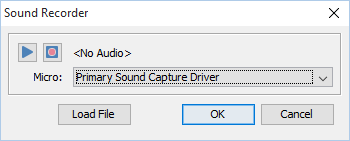 Creating a Sound Annotation
Select the Sound tool by clicking the in the

Comment Tab

on the toolbar

or using the shortcut key Ctrl + Alt + S (Command

+ Alt + S on Mac)  

(Ctrl

+ Alt + Shift + S on Linux)

Note:

If  the multimedia annotation tools are grouped you may need to click on the down arrow

to the right of the current active multimedia tool to select the tool you need.

Click on the page where you would like to add the sound annotation. Once placed the Sound properties dialog will be displayed showing the microphone recording tools.

Alternatively, you can attach an existing file by clicking Load File and then browse to the file you wish to attach. (only .au, .aiff, or .wav files are supported)

Select a microphone and then click the button to start recording and the to stop recording. To listen to the recording click on the button
Once finished click on OK to save and create the sound annotation
Annotation Properties
To access the Sound annotation properties or listen to the audio double click on the sound annotation, right click (Mac: Ctrl + Click) on the annotation and choose Properties in the mouse menu, or click on the edit button

on the Mini Toolbar. The Sound annotation contains the following property settings.
Icon Color - The color of the sound annotation icon
Sound Properties - The properties of the attached audio file or recording

- Allows you to play the attached audio file

- Stops the playing audio