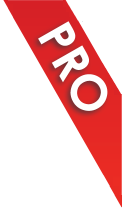 Rasterize PDF
Rasterize PDF re-creates the document using images of the pages instead of vector commands. It functions the same as exporting a PDF to images and then re-importing the images into a new PDF. After rasterizing the new document will be opened.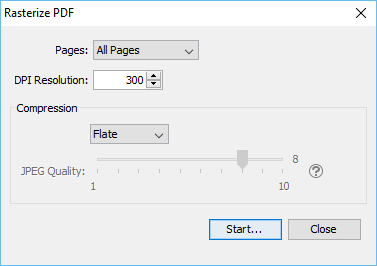 How to Rasterize a PDF
Go to

the

File Tab > Images > Rasterize PDF

on the toolbar

Set the rasterize options. Additional details for each of the settings are available below.

Set the page range
Set the resolution
Set the compression options

Once all of the settings are complete, click on Start... to begin the process.  
Once the document has been rasterized the new document will be opened
Rasterize PDF Settings
Page Range
Pages - The range of pages to be rasterized
All Pages: Rasterizes all the pages of the document

Page Range: Set the pages to be rasterized using the From and To options

Even Pages Only: only the even pages

Odd Pages Only: only the odd pages
DPI & Compression
DPI Resolution - Resolution in DPI used to render the page, 72 is the PDF native resolution.
Compression - Sets the image format. Only images compatible with the PDF format can be chosen.
JPEG - lossy compression that will reduce image quality and size
JPEG2000 - less lossy compression that will reduce size and some quality
Flate - Lossless compression does not reduce quality but may not always reduce file size
JBIG2 B&W - Lossless compression that can only support black and white color space. Color images will be converted to black and white. Best for scanned documents with no images
JPEG Quality - This is the quality of JPEG compression. It varies from 0 (very high compression, very low quality), to 10 (low compression, very high quality) based on the quality parameter. Some guidelines for the quality value: 8 high quality, 5  medium quality, 2 low quality.
---
Affordable, Powerful PDF Software / PDF Editor for Windows, macOS, Linux
Copyright © 2002-Present Qoppa Software. All rights reserved.