My Comments Tool Chest
PDF Studio stores frequently used comments and annotations so that they can be used again later with just a single click.
My Comments: Stores any comments that have been saved by the user to be used again later.
Recent Comments: Stores the last 30 comments used.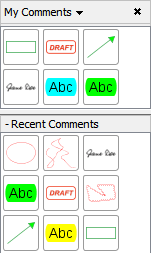 Showing the Tool Chest
To show the Tool Chest click on the
My Comments button on the top right side of the PDF Studio window or using the shortcut key Ctrl + Shift + T (⌘ + Shift + T on Mac).
---
Copyright © 2002-Present Qoppa Software. All rights reserved.