Creating an Image Stamp
Image stamps can be created from any from any of the supported image (*png, *jpg, *jpeg, *jpe, *gif, *tif & *tiff.) formats to apply as a stamp to any document.
How to create an Image Stamp
Go to the Comments Tab > Create > Create Text Stamp from the menu
Enter the options for the new stamp
Once complete click on OK to save the new stamp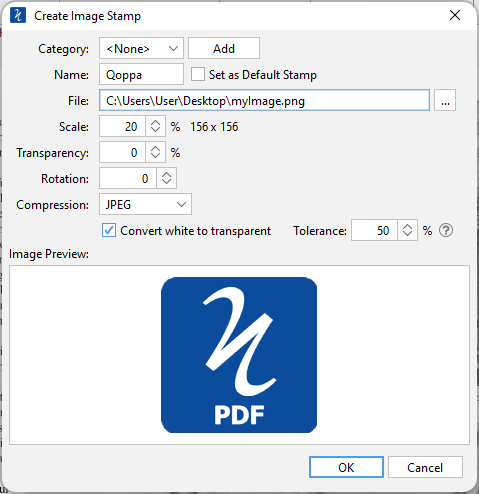 Create Image Stamp Settings
The options for Image Stamps are as follows:
Category - Category to add this stamp to.
Name – Name of the stamp. The name that will be displayed in the Stamps menu.
Set as Default Stamp – Check this to set this stamp as the default stamp
File – The full path to the image file used in the stamp. Click on the "..." button to open a file chooser and navigate to the image you wish to use.
Transparency – Transparency of the stamp
Scale – Change the original image to the size you want your stamp to be
Rotation - The angle the image should be rotated
Compression - The image compression to use when creating the image stamp. Only PDF compatible image compression can be chosen.
JPEG: lossy compression that will reduce image quality and size
JPEG2000: less lossy compression that will reduce size and some quality
FLATE: Lossless compression does not reduce quality
JBIG2: Lossless compression that can only support black and white colors. Color images will be converted to black and white.
Convert White to Transparent - when checked will change any white background to be transparent.
Tolerance - This option removes the white background from an image. Tolerance affects the range of colors that are considered "white" to be converted to transparent. Higher tolerance converts more pixels. For hand drawn signatures it is recommended to use a bold thick pen.