Creating a Custom Stamp
Custom stamps can be created from a combination of images, shapes, and custom text or keywords that can be applied as a single stamp to a document.
Go to the Comments Tab > Create > Create Custom Stamp from the menu
Enter the options for the new stamp
Use the tools above and to the right of the preview panel to create your custom stamp
Once complete click on OK to save the new stamp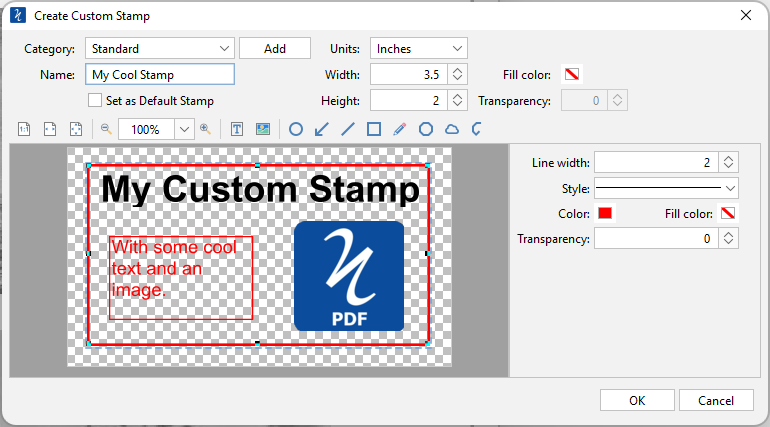 Create Custom Stamp Settings
The options for a custom stamp are as follows:
Category - Category to add this stamp to. Click the Add button to create a new category
Name – Name of the stamp. The name that will be displayed in the Stamps menu
Set as Default Stamp – Check this to set this stamp as the default stamp
Units – Enter the units for the size for the custom stamp
Width - The width of the stamp in the units selected
Height - The height of the stamp in the units selected
Fill Color - Choose a color for your custom stamp background.
Transparency - Enter a transparency value for the stamp's fill color.
Custom Stamp Drawing Tools
The following tools are available to use when creating the custom stamp. The tools function as they normally would on a PDF document except these will only be applied to the custom stamp.

 Actual Size: Displays the stamp with a 1:1 ratio to match how the document would look if printed without any scaling.

Fit to Width: Scales the view to fit the width of the stamp in the preview window.

Fit to Page: Scales the view to fit the entire stamp within the preview window.

 Zoom Out: Zoom out to view the stamp content smaller.
Zoom To/Current Zoom: Displays the current zoom value. You can also select a preset zoom percentage or type in the field for a custom zoom value.

 Zoom In: Zoom in to view the stamp content larger.

 Text Box: Creates a text box annotation. Use this to add text to the custom stamp

 Image: Adds an image to the stamp.

Circle: Creates a circle.

Arrow: Creates an arrow.

Line: Creates a line.

 Square: Creates a square.

Pencil: Creates a pencil.

Polygon: Creates a polygon.

Cloud: Creates a cloud.

Polyline: Creates a polyline.