There are multiple ways to create annotations based on your use case and needs
From the Toolbar
From the Comments Tab, simply click on an annotation tool, and draw the annotation using the mouse on the page.

Quick Color Picker
If needed annotations can be quickly created in different colors using the quick color picker. Just Right Click on any of the annotation buttons and select the color you wish to use and the tool will be started in that color. 
NOTE: The color only applies for the next annotation created. To set the default color for the annotation see Setting Annotation Tool Properties.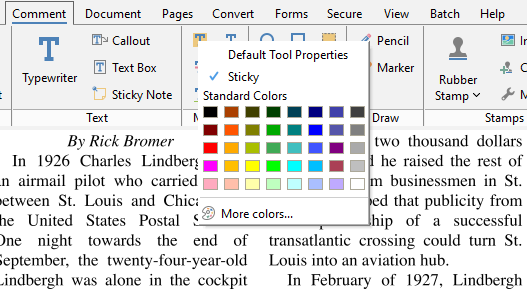 Using Shortcut Keys
Using shortcut keys. Press the keyboard shortcut for the annotation tool you wish to use then draw the annotation as you normally would.
Annotation

Windows / UNIX

Mac

Area
Ctrl + Alt + E
⌘ + Alt + E

Area Highlighter

Ctrl + Alt + I

⌘ + Alt + I

Arrow
Ctrl + Alt + A
⌘ + Alt + A

Attach File

Ctrl + Alt + F

⌘ + Alt + F

Callout
Ctrl + Alt + V
⌘ + Alt + V

Circle

Ctrl + Alt + C

⌘ + Alt + C

Cloud
Ctrl + Alt + B
⌘ + Alt + B

Cross out Text

Ctrl + Alt + O

⌘ + Alt + O

Distance
Ctrl + Alt + M
⌘ + Alt + M

Text Box

Ctrl + Alt + T / Ctrl + Alt + Shift + T

⌘ + Alt + T

Highlight Text
Ctrl + Alt + H
⌘ + Alt + Shift + H

Insert Image

Ctrl + Shift + I

⌘ + Shift + I

Insert Text
Ctrl + Alt + X
⌘ + Alt + X

Line

Ctrl + Alt + L / Ctrl + Alt + Shift + L

⌘ + Alt + L

Pencil
Ctrl + Alt + P
⌘ + Alt + P

Link

Ctrl + Alt + K

⌘ + Alt + K

Perimeter
Ctrl + Alt + R
⌘ + Alt + R

Polygon

Ctrl + Alt + G

⌘ + Alt + G

Polyline
Ctrl + Alt + Y
⌘ + Alt + Y

Replace Text

Ctrl + Alt + Z

⌘ + Alt + Z

Sound
Ctrl + Alt + S

 / Ctrl + Alt + Shift + S

⌘ + Alt + S

Square

Ctrl + Alt + Q

⌘ + Alt + Shift + Q

Squiggly Underline
Ctrl + Alt + J
⌘ + Alt + J

Sticky Note

Ctrl + Alt + N

⌘ + Alt + N

Underline Text
Ctrl + Alt + U
⌘ + Alt + U

Typewriter

Ctrl + Alt + W

⌘ + Alt + W