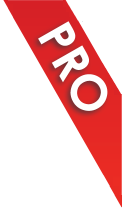 Configuring Batch Output Settings
When processing multiple PDF files during a batch the process a location will need to be specified for the PDF files once they have been processed. These settings are configured per batch.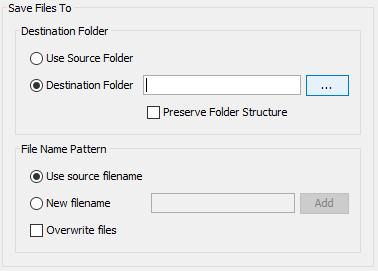 Batch Output Settings
The following output settings are available when working with batches.
Destination Folder
Use Source Folder - When this option is selected, the original folder for the PDF document (in the batch process) will be used to save the output files.
Destination Folder - This option allows you to set a destination folder to place all of the processed files. You can type the destination manually or click on the "..." button to open a directory chooser to set the destination folder
Preserve Folder Structure: When checked, the output files will be placed within a new folder (within the specified destination folder) using the file's parent directory name.
File Name Pattern
Use Source Filename - Will save the document using the same original name. If another file exists in the directory, a number will be appended to the output file name, to avoid duplicate file names.
New Filename - When this option is selected, you will need to enter a new filename used for the output files. Each document name will have an incremental counter starting at zero appended to the file name entered in this field. Custom variables may also be used to further distinguish each of the file separations. The available variables are:
$

filename - The file name (no extension) that the document was opened from
$counter - An automatically incrementing number
$day - The day of the month
$month - The current month, using two digits
$year - The current year, using four digits
$shortyear - The current year, using two digits
$second - The current second
$minute - The current minute
$hour - The current hour, 1-12
$ampm - AM or PM
$longhour - The current hour, 0-23
Overwrite Files - When set, if a file with the same name already exists in the directory it will be overwritten with the newly output document.
Note: This CAN NOT be undone. Make sure that you have all your settings correct prior to starting the batch process
---
Affordable, Powerful PDF Software / PDF Editor for Windows, macOS, Linux
Copyright © 2002-Present Qoppa Software. All rights reserved.